Fashion Without Frostbite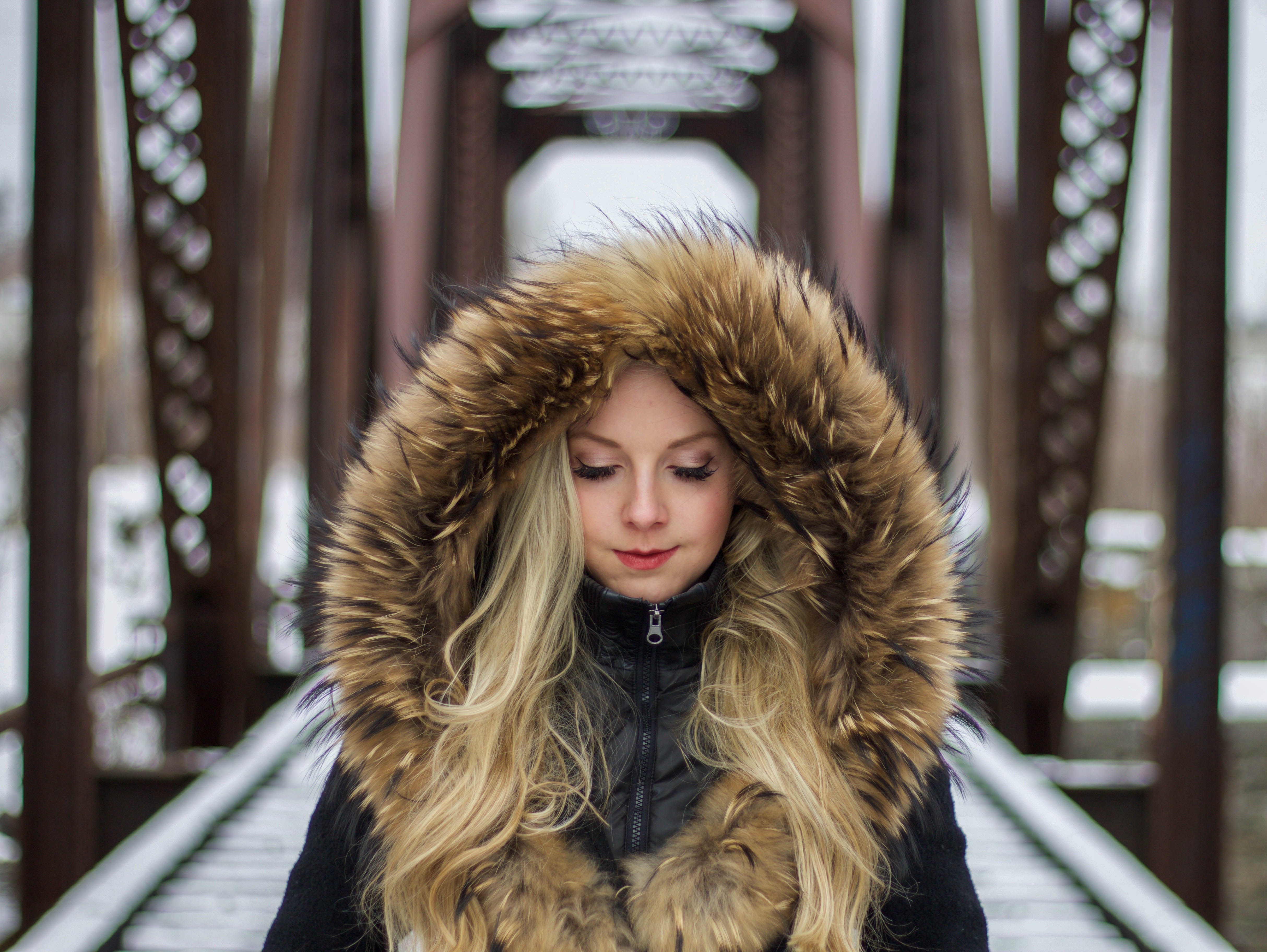 BY: DANI WOLFENSON
When bundling up to face the harsh Syracuse weather, students are often stuck choosing between comfort, style, and budget. Luckily, it is possible to get all three.
Here are my top picks of jackets for this Fall and Winter based on style, versatility, comfort, and price.
Early Fall jackets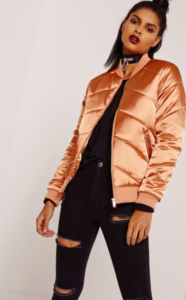 Missguided Satin Quilted Bomber Jacket, $59.50
You can never have enough orange in your closet. This jacket is perfect for adding a pop of color to any outfit and keeping you warm on game days. Unlike with most bright colors, you will not have a problem finding clothes to match this, as it will match all your SU gear. It gets even better for every broke college student: Missguided offers a 20% student discount.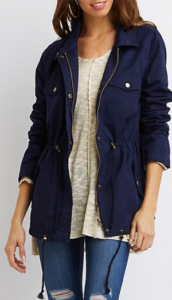 Charlotte Russe Drawstring Anorak Jacket, $38.99
Continuing with 'Cuse colors, here's another light jacket perfect for enjoying autumn in Syracuse before we're forced to whip out our down jackets. From apple picking to simply walking to class, this jacket will keep you warm in the brisk air without compromising your outfit.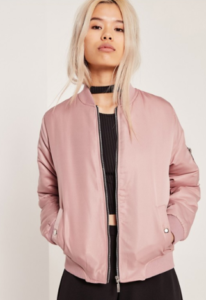 Missguided Petite Soft Touch Bomber Jacket, $42.50
Bomber jackets are seen everywhere now, but often in the same plain neutrals. Here is another, colorful bomber from Missguided for petite girls who are sick of having to cuff their sleeves. This piece will complete any outfit- even the leggings and t-shirt look most girls rock to classes every day. With a jacket so versatile, you will most certainly get your money's worth – don't forget your 20% off student discount!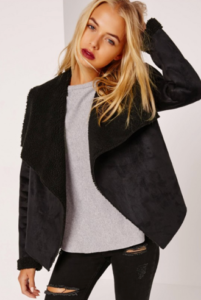 Missguided Faux Shearling Waterfall Jacket Black, $59.50
Following the classically cool look of bomber jackets are waterfall jackets. These pieces hang effortlessly (hence the name waterfall) and compliment any fall outfit. This jacket is faux shearling, so it is nice to animals as well as to your bank account.
Late fall into early winter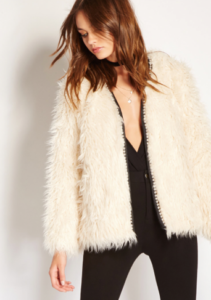 Forever 21 Shaggy Faux Fur Coat, $49.90
Late fall this year can be summed up in two words: faux fur. Luckily for us college students, faux fur is significantly cheaper than real fur without skimping out on style. This piece is pretty from afar, and even prettier up close. The attention to detail in the faux pearls on the seams of the jacket is impressive, especially for its price. In its neutral cream color, this jacket can easily be dressed up for events or down for classes.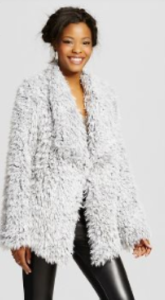 Target Xhilaration Women's Faux Fur Jacket, $49.99
Even shaggier than the last, this faux fur jacket effortlessly combines comfort and style. This piece can be dressed down enough to keep you warm and cozy throughout all-nighters in the library during finals week, yet dressed up by simply adding posher pieces such as faux leather pants. It doesn't take much to convince a college student to go on a Target run, so if you were looking for an excuse to do so, here it is!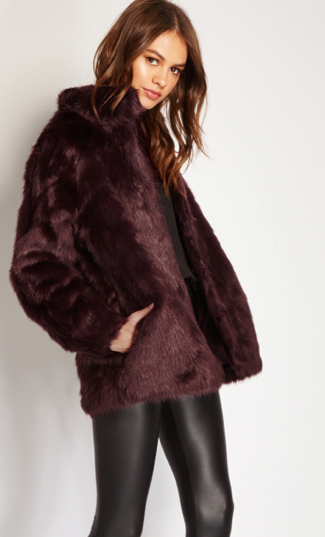 Forever 21 Faux Fur Mock Neck Jacket, $59.90
If you're still not sure whether you should purchase a faux fur coat or not, this one should convince you. As anyone who has experienced cold weather knows, keeping areas such as your neck warm is just as important as wearing a jacket. This mock neck coat doubles as a jacket and a built-in scarf. Additionally, the burgundy color will make you stand out in a sea of neutrals.
winter wear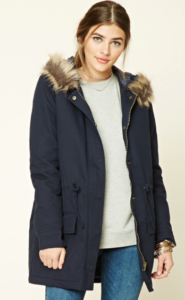 Forever 21 Faux Fur-Trimmed Parka, $32.90
Unfortunately, when it comes to the heavy, down jackets necessary for bracing Syracuse winters, comfort and warmth must be put before price. Luckily, it is still possible to save money on coats for the slightly warmer winter days. This parka exceeds its expectations, with attention to detail in the turquoise color of the inner hood. For added warmth, layers of sweaters can easily be layered underneath. This jacket is perfect for throwing on for your walk to class as well as for wearing over Syracuse gear on game days.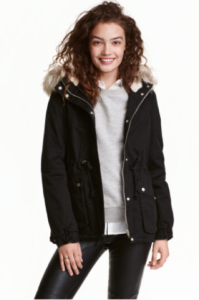 H&M Pile-lined Parka, $59.99
Even warmer is this pile-lined parka from H&M. This jacket disproves the idea that keeping warm has to equate sacrificing style. Coming in neutral colors, this parka pairs with any outfit with ease. For a slight pop of color, the jacket also comes in an eye-catching, yet not overwhelming, dark red.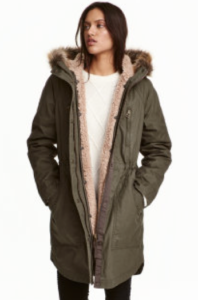 H&M Parka with Detachable Lining, $99
When it comes to the warmth of coats, oftentimes you get what you pay for. This jacket is the most expensive on the list, but also the warmest. That being said, the lining is detachable for the days when the coat will compliment your outfit but the extra warmth  is not necessary. Since jackets are investments, it is helpful to keep in mind that the khaki color of this jacket has gained popularity in the past few years with no signs of slowing down. This means that you will still like this parka for years after you graduate from SU.
---
---