Caught on Campus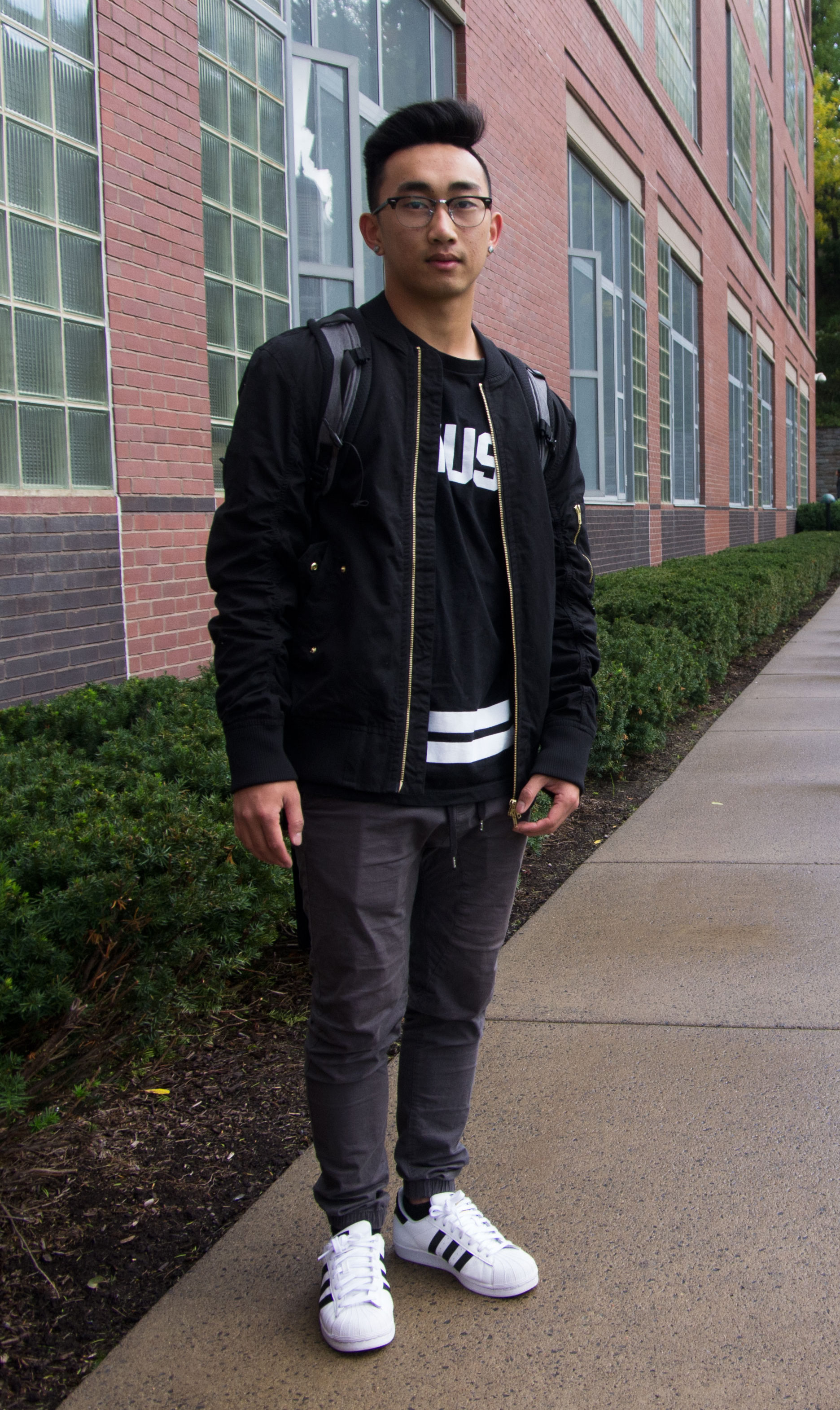 By: Ami Jin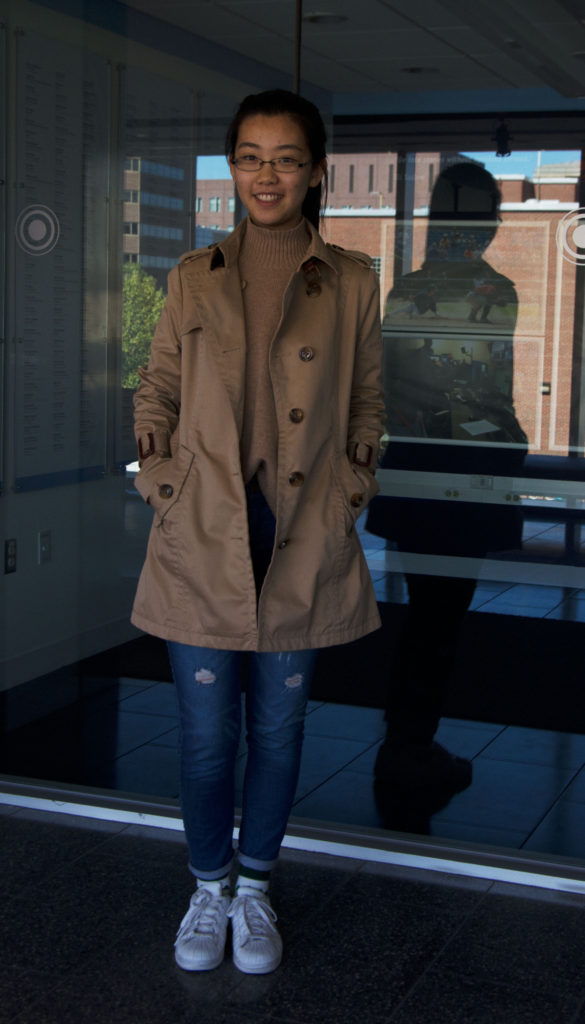 SPOTTED: MARY MA
Sophomore Advertising Major
Wearing:
Ann Taylor Sweater
Adidas Sneakers
Accessories bought from Taobao marketplace in China
What inspires your style?
"Other people who look fashionable. I feel that sometimes when you don't know how to wear things, just follow them. I like stuff that's pretty simple — price is another concern."
What attracts you to this style?
"I'm a student and students sometimes don't have enough time to dress, so I just pick something I feel comfortable in and that's enough."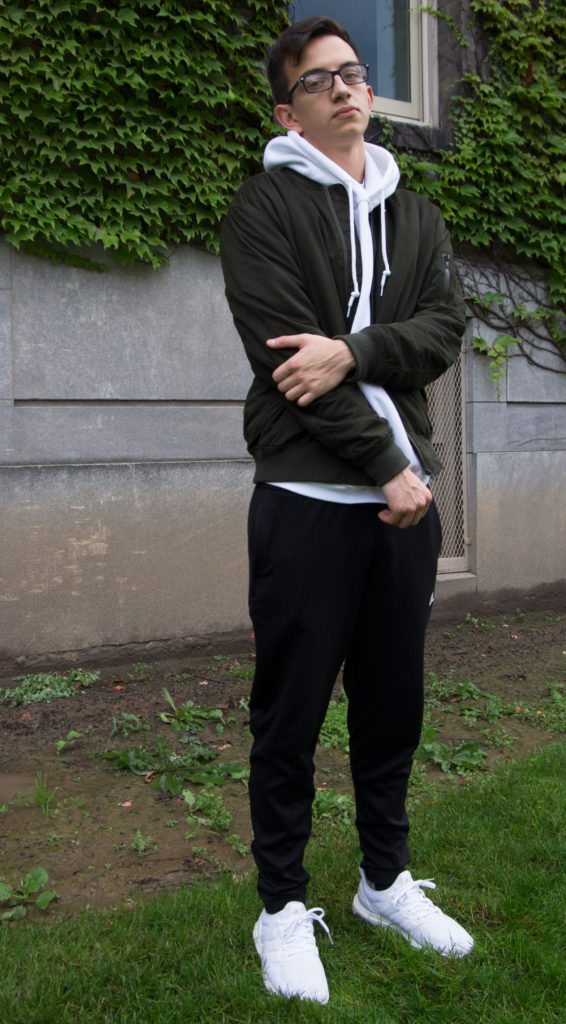 Spotted: Gabriel Martinez
Junior Political Science Major
Wearing:
21 Bomber Jacket
Kanye West Pop-Up Shop Hoodie
Adidas Sweatpants
Adidas Ultraboots
What inspires your style?
"Different artists, different fashion designers. I look around on Instagram, and all these different fashion websites, and make my style be somewhat similar to higher-end models and things like that in order incorporate streetwear and also preppy wear every day into my different styles."
What attracts you to this style?
"Just how relaxed it is, but how good it actually looks. You really don't have to put much effort — right here I have a pair of sweats and a hoodie and a bomber jacket and I really do nothing for it, but I like the look. The look works. It's effortless, to a certain extent."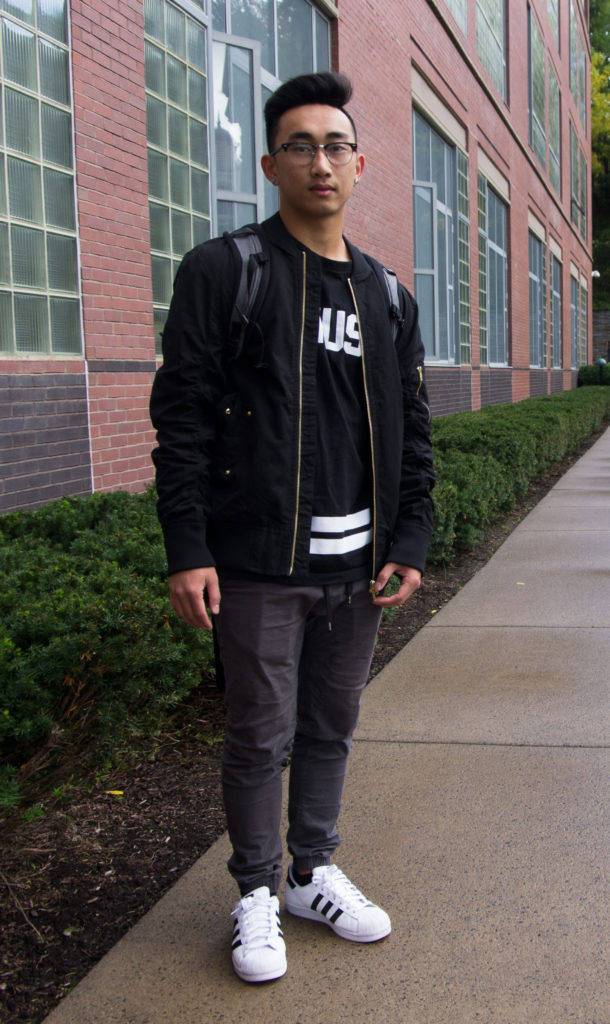 Spotted: Kevin Tsai
Freshman Film Major
Wearing:
H&M Bomber jacket
Lotuss T-Shirt
Cotton On Pants
Adidas Superstars
What inspires your style?
"A lot of my friends are dancers and they have basically taught me the current trends and stuff. But at the same time, I don't want dress over the top. So I dress kind of casual, but still wear the things that dancers would usually wear. I actually just threw these on before I came out, so I wasn't really planning to look good. Anything in my wardrobe always fits with the outfits. So if I'm running late to class, I can just toss anything on and it would still look fine, because the colors are very basic. Just black, white."
What attracts you to this style?
"I guess it's a little more modern. It's a little bit more than just skinny jeans and Vans and a T-shirt, but it's not too much where you're going to stand out compared to everyone else. And I just like how it makes the top part of your body look a little bit heftier and then the legs are still slim. And the shoes — the reason I wear white shoes is because it kind of stands out as well. There's like different elements you can look from upper body to lower body and there's a good variation of thin and thick, so that's what I look for."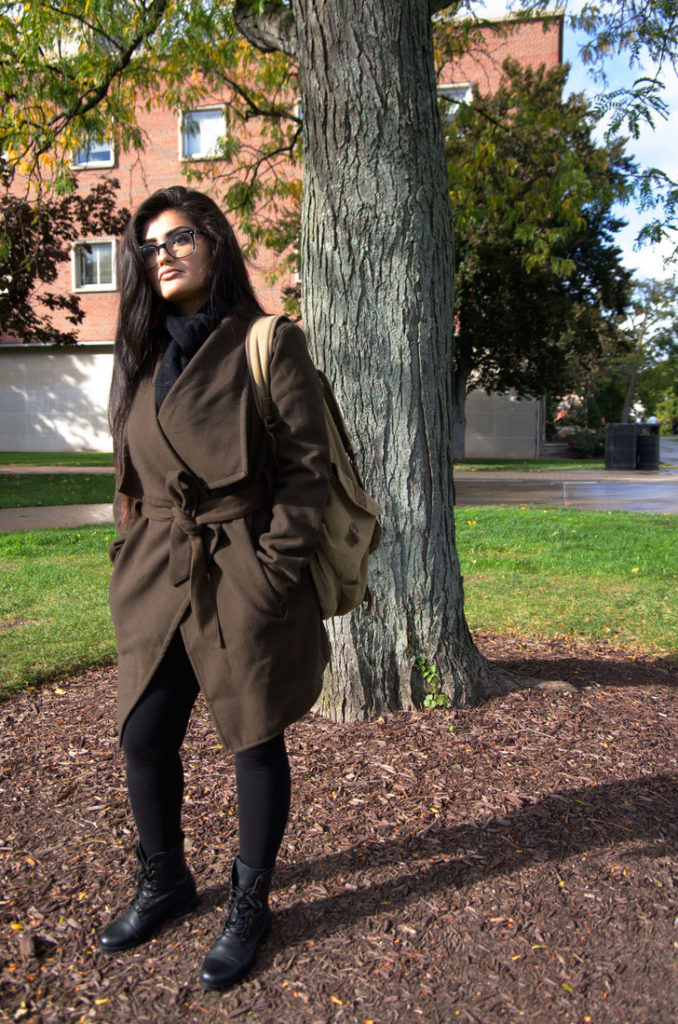 Spotted: Jamila Salim
Junior Health and Exercise Science Major
Wearing:
Fashion Nova Jacket
Forever 21 Cardigan
Unknown Brand Scarf
Garage Tank Top
Garage Leggings
Steve Madden Shoes
What inspires your style?
"I would say it's very simple; I like a lot of plain colors and I like a lot of different shades of the same color. I guess Kanye got me into it. And I like things that are form-fitting. I'm into textures. I feel like whenever you have one nice piece, you can always just dress something up. You can have on all-black, but then if you put on some nice jewelry with it, it'll always look better. I don't like to have too much going on. I like one statement piece."
What attracts you to this style?
"I feel like my style is not where it should be yet. It'll get where it should be once I'm out of college and I have money for it. You see what's around and you see what fits your body best and what you feel most comfortable in. I feel like that's what it's about. I can feel more comfortable in all-black and you can feel more comfortable in a complete yellow outfit. I think it also has to do with how you're feeling that day. So like when I don't want to see anybody, I'll just throw on a hat. If I do wanna see everyone, I'll put on a pink dress."
---
---